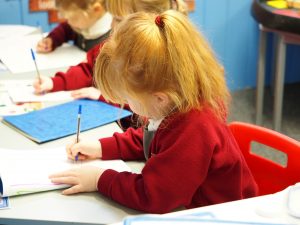 At Hillside we aim to inspire children and encourage the development and application of imagination. We develop the children's ability to produce well structured, detailed writing in which the meaning is made clear and which engages the interest of the reader. Attention is paid throughout the school to the formal structures of English, grammatical detail, punctuation and spelling. Teachers model the 'craft of writing' and the use of phonics and spelling strategies are a focus of shared writing sessions. The children are given frequent opportunities in school to write in different contexts and for a variety of purposes and audiences, using quality texts as a model. There are many opportunities for children to improve their writing inspired by drama techniques and film clips.
Please click below to view our long term plan:
Reading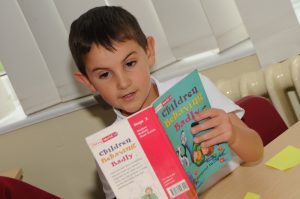 Our reading curriculum is designed to produce productive, creative and well educated students. The challenging and ambitious expectations of the National Curriculum are reflected in our aims and beliefs of how reading should be taught at Hillside. Pupils within our school are taught to read fluently and encouraged to read for pleasure.
See below for documents relating to Reading at Hillside.
Handwriting
Presentation of written work reflects the awareness of the writer to the needs of his or her audience. Our ultimate goal is for pupils to achieve a fast, flowing, joined, legible style of writing. In order to achieve this, we are aware of the need for a consistent approach to the teaching of handwriting across the key stages. Our aim is for all children to write fluently, legibly and with increasing speed and to understand the different forms of handwriting used for different purposes by the end of KS2. At Hillside we use the Letter-Join handwriting programme to enhance the teaching of handwriting in all key stages.
See below for documents relating to Handwriting at Hillside
Phonics
Daily discreet phonics lessons are taught in differentiated groups which are suitable for the child's phase of learning. A systematic scheme is used in school which is a fun and interactive way to support children in learning how to read and write. To promote high quality phonic teaching at Hillside we use a variety of strategies and resources.
Spelling, Grammar and Punctuation