City Catering is our in-house caterer and their menus meet legislation for school food standards. City Catering has achieved  the Food for Life Silver Catering Mark, which means greater emphasis is put on sourcing environmentally sustainable and ethically sourced foods. Their meat is farm assured, eggs are free range and fish are sourced from sustainable stock. All food procured is as locally produced as possible therefore supporting the local economy.
Our culinary experts produce a tasty and healthy menu for us; each week giving us great tastes from around the world along with traditional English meals.
There are 3 menu patterns which change on a rolling programme indicated by the date of the week.  Menus are designed to give a variety of flavour, colour, texture and appearance to support good nutrition. Below are an example of our menus.
Meals are prepared and served on the premises by our highly skilled and passionate catering team and lunchtime supervisory staff who make dinnertime at Hillside a fun and enjoyable time in a safe and hygienic environment.  Children with special dietary needs are noted and catered for.
Children in our Nursery and Reception classes are provided with family service for their school lunch.  Key Stages 1 and 2 use self service for their lunch.  The children get a choice of main course, side, dessert and drink.  A salad bar is available as an alternative to the vegetables on offer.
Children may have a school meal or bring a packed lunch (excluding Nursery).  School meals are provided at a reasonable price, £12.00 per week (£2.40 per day) with payment on a weekly basis, paid in advance on the first morning of each week.  At Hillside we operate a cashless environment and all payments are made through an online payment system called ParentPay. Details will be provided as part of your child's induction pack. We require a notice period of one week for any changes to school meal arrangements.  https://app.parentpay.com/public/client/security/#/login
A government initiative provides all children in classes Reception, Year 1 and Year 2 with a free school meal.  All other classes will pay the current rate charged for school meals unless they qualify for means tested free schools meals. Parents who think their children qualify for free meals should contact the school office who will make appropriate enquiries and treated in the strictest confidence – further information below.
Children not opting for school meals will need to bring a packed lunch to school.  As a health promoting school, we ask that children should bring only healthy food for lunch and break time snacks.  Lunches should be packed in a secure container, clearly named and drinks should be in an unbreakable container.  Hot or fizzy drinks are not allowed. Please encourage your child to drink fresh water daily.  Water coolers are situated throughout the school.
Health & Hygiene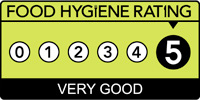 Our catering team provide interesting and healthy meals in a clean and safe environment.  Don't take our word for it as they have been awarded 5 stars in food hygiene by the Food Standards Agency.
Important:  Peanut/Nut Allergies
There are children and staff in school who have a severe food allergy to peanuts/nuts.  It is important to avoid this food as best we can to prevent serious allergic reactions.  Please do not send any peanut or nut containing products to school with your child in their lunchboxes or at any other times.
It is essential that the school are notified of any allergy which your child may have or develop during their time at Hillside.