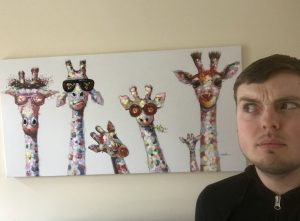 It already feels like so long since we saw you all. I hope you are all safe and happy! Miss Pinnington and I are missing seeing all of your lovely smiley faces. It's so strange for you all not being in school isn't it? I was missing your cool dances so much on Friday that I had to do one of my own. It's lucky you didn't see it. It was a little bit crazy!
I'm clearly missing you all. This is my new class. There's Geoffrey, Bert, Betty, Frank, Bertha and Margaret (how did I do with my commas in a list?). They are great listeners but they don't answer many of my questions. I think I prefer you lot!
Stewart is enjoying being in the classroom on his own. When I last spoke to him, he told me he had enjoyed filling the sink up with bubbles and was taking a bath singing your favourite song Pump it Up! He's a strange octopus…
I'd love to be able to talk to you all and find out what you're up to. How are you choosing to spend your week? I hope you're still managing to get some fresh air. Has anybody spent their time learning or practising a skill like drawing or singing? You could write your answers down as part of your diary task from your topic grid. Don't forget about these tasks. It's important that we all keep our minds sharp ready for when we are back.
I've been getting on with some school work just like you and it's been great fun planning some exciting lessons that give you the opportunity to showcase how amazing you all are. You all worked so hard before we broke up. Miss Pinnington and I were so proud of what you achieved and how much progress you made. 
As I said earlier, it feels like forever since we last saw you but fingers crossed that time starts to zoooooooom and we'll be back in the classroom before we know it. Missing you all.
Mr Mellor and Miss Pinnington