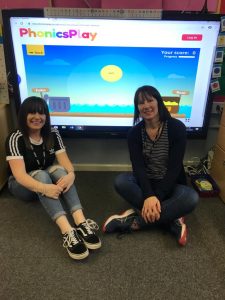 We hope that you are all keeping safe at home and still remembering to wash your hands whilst singing 'Happy Birthday' twice! 🎶
It is so strange being at school and not having you here with us; the classroom is very quiet without you. We look forward to hearing all about your time spent at home with your families and see the home learning that you are doing with your adults! 📚
We hope you are enjoying all of the activities we have set relating to our Fairy Tales topic and we are very proud of you for carrying on with your learning at home, it must feel very strange for you but just think about how much your brains will have grown since we last saw you!! 🧠
Don't forget, next week when you are eating all of your yummy chocolate eggs, think about what Easter represents to Christians.
We are thinking about you all every day Reception and we really miss our daily dance sessions with you, every time we hear "Dance Monkey" we smile and think of you all. 🐒😊
We look forward to seeing you very soon.
Stay safe our little dance monkeys 🐵
From, Mrs Ashton, Mrs Pope and Miss Riley xxx