As you know, its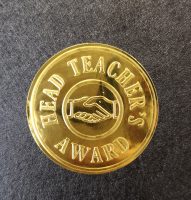 our tradition to have a celebration assembly every Friday morning. We all love these assemblies as they are a time when we all come together (children, staff and parents) to acknowledge, share and congratulate children in their achievements. We thought it may be nice for you to re-enact an assembly this morning or at some point throughout the day.
We always start with a song, some of our favourites include, The Climb, Fight Song, This is me and Reach for the Stars. You could play one of these now or a song that you choose- if you are able. Sing along 🎤 🎶
We then usually celebrate children's good work. At this point your teacher says something lovely about you and your work and says how proud of you they are. Mrs Schonau loves having a look through your work and books brought out to the front by you. She loves to see you feeling so positive and proud. I'm sure your parents can pick something that you've done this week to congratulate you for.
Every good worker then gets a big round of applause- here's a big, virtual round of applause from everyone at Hillside 👏
Next, we move onto the Headteacher Awards, today we have selected 3 of our school values to award each and every one of you with – courage, determination and excellence. Which one do your adults at home think you should be awarded with? Just one … or all three?  You could even print any of these certificates off and write your name on if you have the facilities to do so.
Here's another virtual clap for you 👏. Well done to you all. You make Hillside and your families so so proud ❤️
Let's not forget birthdays! If you have had your birthday recently then here's a big HAPPY BIRTHDAY to you from all the staff and children at Hillside 🎉🎁🎂. We hope that you have had a great time. Maybe you  could all sing Happy Birthday at this point 🎶.
I'm sure that if we were in school today then at the end of assembly, we would be wishing you all a very Happy Easter 🐣 and telling you to stay safe over the holidays. Although it may not feel like a normal holiday, still try to enjoy your time with those family members that you live with, enjoy the outdoors and enjoy playing, laughing and developing your skills.
For those children who are in school during the next two weeks–see you soon. Staff are looking forward to caring for you.
For the children at home stay safe and enjoy this time with your loved ones.
Lots of virtual applause, thumbs up and hugs from the whole Hillside community. 👏 👍 🤗