Did you know …… just registering your child for Free School Meals means that the school benefits from extra money?
A government initiative provides all children in classes Reception, Year 1 and Year 2 with a free school meal.  All other classes will pay the current rate charged for school meals unless they qualify for means tested free schools meals.
We would encourage parents who think their children qualify for free meals to apply immediately. Even if you receive a free meal funded by the Government, we also urge you to still apply as qualifying will allow access to many things such as additional funding for your child or discounted activities etc. It isn't just funding for free meals.
If you are in any doubt as to whether you should apply or would like more information – please contact the school office: email office@hillsideprimary.org.uk or telephone 01782 235350. All enquiries will be treated in the strictest confidence.
How does it work?
1. First, check if you qualify—it is not just if you are unemployed, so please check the criteria.
Your child may be able to get free school meals if you get any of the following:
Income Support
income-based Jobseeker's Allowance
income-related Employment and Support Allowance
support under Part VI of the Immigration and Asylum Act 1999
the guaranteed element of Pension Credit
Child Tax Credit (provided you're not also entitled to Working Tax Credit and have an annual gross income of no more than £16,190)
Working Tax Credit run-on – paid for 4 weeks after you stop qualifying for Working Tax Credit
Universal Credit – if you apply on or after 1 April 2018 your household income must be less than £7,400 a year (after tax and not including any benefits you get)

If your child is eligible for free school meals, they'll remain eligible until they finish the phase of schooling (primary or secondary) they're in on 31 March 2022.
2. Registering is really quick and easy—if you think you qualify you just need to complete the form at the bottom of the page and return it  to school and we will place your application. If you have any queries or need any assistance please contact the school office: email office@hillsideprimary.org.uk or telephone 01782 235350.  
3. If you want your child to have a free, healthy meal at lunchtime that's great—they will get the free meal (saving you around £450 a year for each eligible child) and the school gets additional funding too. If you don't want your child to have the school meals they can continue as normal—as long as you qualify and are registered for free school meals the school still gets the additional funding.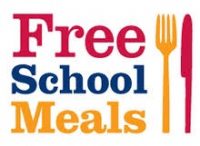 No-one will know you have registered and it will not affect any other benefits you are claiming.
Please register immediately to make sure your child and others don't miss out.
Free school meal application form:
If you would prefer a paper copy of the application please contact the school office:
email office@hillsideprimary.org.uk or telephone 01782 235350.