Art at Hillside:
Vision:
At Hillside, we understand that art is an area where pupils can understand and enjoy by developing an appreciation of the world around us. We believe that the teaching of art should be through practical exploration where children can develop a flare for the subject and an understanding of the work of artists, architects, sculptors and painters. By allowing children to develop their own flare for the subject, we are creating independent learners who can make decisions for themselves based on their own likes and dislikes. We want our pupils to be confident in saying their opinions in a respectful and well-thought out manner.
We have designed our curriculum so that art lessons allow opportunities for the children to be plan and design their ideas so they are clear on what their final piece will look like. We encourage and praise the children to discuss their work, and to share why they have chosen a certain technique. Through utilisation of a variety of teaching and learning styles, pupils are motivated to question, form opinions and offer peer support as they focus on art from various periods of history including significant artists, architects, sculptors and painters from all around the world.
Please click below to see our long term plan.
Curriculum
The objectives for art in KS1 and KS2 are clearly set out for each year group in the National Curriculum:
Key Stage 1:
Pupils should be taught about:
To develop a wide range of art and design techniques in using colour, pattern, texture, line, shape, form and space
Key Stage 2:
Pupils should be taught about:
To create sketchbooks to record their observations and use them to review and revisit ideas
To improve their mastery of art and design techniques, including drawing, painting and sculpture with a range of materials
To know about great artists, architects and designers in history.
Early Years Foundation Stage
We teach art in nursery and reception classes as an integral part of the topic work covered during the year. As the classes are part of the EYFS curriculum, we relate the artistic side of the objectives set out in the Early Learning Goals (ELG's) which underpin the curriculum planning for children aged 3 to 5. Art makes a significant contribution to expressing the world through activities such as discussing how art makes them feel, and from having hands-on experiences with a range of media such as paint, colour and materials.
The contribution of Art to teaching in other curriculum areas
English
At our school, we have aligned our curriculum so that the teaching of art is linked with our English topics throughout the year. English texts are chosen to engage and bring learning to life for the children, and from this, we ensure that art is reinforced too. The children use their artist of the term to create pieces of art linked to their learning in English.
Mathematics/Science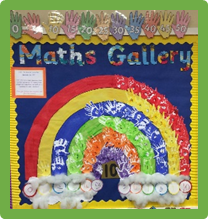 The teaching of art contributes well to mathematics and science. Children develop the skill of accuracy when using rulers which they can then apply to their art lessons. This helps them to become aware of how they want their work to be presented, and it teaches them the skill of taking pride in their work. Shape is a mathematical topic where children become familiarised with symmetry and pattern which they can use when creating their own artwork. Art links well to the skills needed in science lessons. Children learn how to create mathematical and scientific tables to present their learning which again links to the skill of accuracy. Children are encouraged to use the resources that they have to present their work to the highest standard.
Personal, Social, Health and Citizenship Education (PSHCE)
Children develop self-confidence by having the opportunity to explain their designs and work in their art lessons. Children are encouraged to offer peer support and praise to one another. In addition, they discover how to be active citizens in a democratic society by learning how laws are made and changed. They learn that society is made up of people from different cultures and start to develop respect and tolerance for others.
ICT
Information and communication technology enhances our teaching of art wherever appropriate in all key stages. The children use ICT in a variety of ways such as finding information on the internet and presenting information on artists, architects, sculptors and painters via PowerPoint.
History
Each historical topic taught at Hillside has an art theme running through it. The two subjects work together to allow children to question art and to research how famous artists, architects,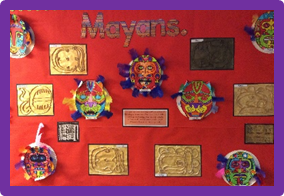 sculptors and painters decided to pursue the subject. Many art lessons spend time researching the work of famous artists to allow children to understand the context behind the artist. For example, it allows the children to understand what it would have been like during the period of the Mayans, and what equipment they had to use. It allows great comparative language skills to develop as children are encouraged to understand how art has developed through time.
R.E
Throughout the year, there are many opportunities for art and R.E to link together. Hillside provides the children with R.E days during each term where children move through the school to learn about many religions. The children work to create respectful, artistic pieces that are then showcased through the school. Linking these two subjects allows children to develop respect for different religions, and to see how art is perceived across the wider world.
British Values
British Values is a core value that all staff share at Hillside Primary. British Values links with art in a variety of ways. Throughout the year, we look at various aspects of British Values such as Remembrance Day. The whole school participates in creating purposeful art for a display at Milton Parish Church led by the wonderful Mr Such.
Educational visits
We place great importance on educational visits and visitors to enhance the art curriculum. These trips, alongside various other strategies discussed above allow teachers to facilitate learning so that pupils can note connections, contrasts and trends over time and are more holistically developed to enter the world as wider informed individuals. Such visits include: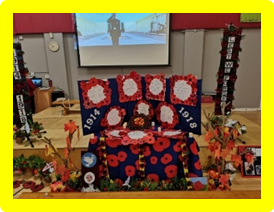 Nursery visit to Amerton farm where they explore colour and seasonal change.
Reception go on a local walk and discuss the seasons and how it makes them feel.
Year 1 visit Brampton toy museum to look at how toys. They can create their own working toys linking to design and using a range of materials.
Year 2 go to Knowsley Safari Park where they learn about different animals that may be found in Africa. They then create art linked to the artist of Martin Bullinya.
Year 3 visit Gladstone Pottery museum to look at how Stoke-on-Trent was revolutionised by the pottery industry and the impact that artists have had on our city.
Year 4 are immersed in the life of a Roman soldier as they visit the Dewa Centre in Chester. They create their own Roman shields to showcase their own creativity.
Year 5 visit Dudley Zoo which links with their rainforest topic. They create pieces related to their learning on this.
Year 6 are immersed in their topic of the Victorians by visiting Blist's Hill Victorian town. They have the opportunity to learn the skill of 'Intaglio' where they engrave a design into a material.

Assessment for learning
Children demonstrate their ability in art in a variety of different ways. Younger children might, for example, work in a small group to design an artistic piece and have an adult-led discussion about how the art has made them feel. As children get older, work is much more focussed on children ensuring they are independent learners; they use their sketchbooks to make notes that will inform their final artistic pieces.
Teachers will assess children's work by making informal judgements during lessons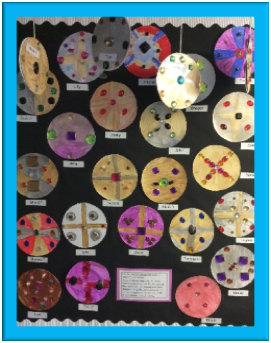 On completion of a piece of work, the teacher assesses the work and uses this information to plan for future learning. Written or verbal feedback is given to the child to help guide his or her progress. Older children are encouraged to make judgements about how they can improve their own work or the work of their peers.
At the end of a term's themed work, teachers complete an Excel spreadsheet, in which topic areas are broken down into the objectives as set out by the National Curriculum. Children are assessed as to whether they are emerging, expected or exceeding within these domains. This is used to provide accurate information to other teachers, the art subject leader and learning support assistants termly and during times of transition.