What a strange couple of weeks it has been. We hope you are all staying safe and washing your hands. I wonder how many of you are still counting to 20 in French while you do it?
It is strange not seeing your happy, smiley faces every day but I want you to know that we all miss you and can't wait to see you again soon. We are missing our daily chats and hugs.
We can't wait to see all the amazing work you have been doing at home especially the gruesome mummy making instructions and Egyptian art work. You all know how much I love computing so it has been lovely to see that many of you have been going on to PurpleMash and completing activities. Keep it up!
I am working from home to keep myself and my bump safe but Mrs Schonau has still got me working very hard. I have got lots of jobs to do and we have been challenged to think of lots of exciting, new ideas for things to do for when we return to school.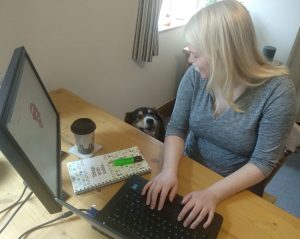 Keep working hard and being good for the adults at home.
Hopefully we will be back together soon.
From Miss Nelson, Bump, Mrs Ward and Mrs Daley
This new teaching assistant is cute but nowhere near as good as Mrs Ward or Mrs Daley!