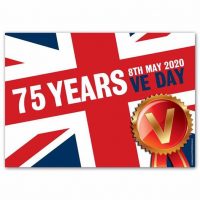 Dear Parents and Carers,
This year marks the 75th anniversary of VE (Victory in Europe) Day. Whilst current circumstance prevents us from going about our usual day-to-day lives,  we still think it is possible to have a stay-at-home street party to celebrate this momentous occasion and bring a bit of fun to the community.
Should you want to be involved in the fiesta, I have uploaded a link onto the 'Home-Learning' section of the school website titled, 'VE Day – 8th May 2020'. This link provides information about VE Day and a range of activities for your children to do at home in preparation for the day.
Hillside staff are going to be completing some activities with those children still in school so that they can decorate the school ready for the day. Why not send some photos in of your children completing the activities or of the decorations hung up in/outside your houses and these will be uploaded to the school app on 8th May?
Stay safe,
Mr Frost