We just wanted to say one more WELL DONE to everybody- children, Parents/Carers and school staff for surviving this half term. Despite the circumstances, it has been such successful half term with many positives; the children both at home and in school have worked incredibly hard and should be so proud of themselves. Parents and carers have facilitated learning, as well as juggling lots of other demands.
For this we say a massive THANK YOU.
We feel, at school, that relationships within the Hillside community have grown ever-stronger and that we have drawn together as a brilliant team. We have been overwhelmed with feedback about our home learning and the support we have offered and it's lovely to hear that all our planning, preparation, and continued hard work is appreciated and is supporting the children and parents of Hillside well.
The link below gives lots of ideas for (free or cheap) activities to complete over our lockdown half term:
https://www.moneysavingexpert.com/team-blog/2020/04/free-or-cheap-ways-to-entertain-kids-indoors/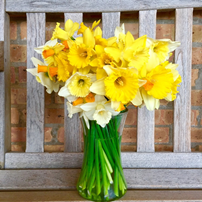 We hope you enjoy this picture of beautiful daffodils as a reminder that Spring is on its way with promises of lighter, brighter, better times ahead.