Online Gaming
All gaming consoles, handheld devices and operating systems for PC and Mac are equipped with parental control systems, allowing parents to protect their children's privacy and online safety according to various parameters.
With these control tools, parents can:
– select which games children are allowed to play (based on the PEGI age ratings)
– control and monitor the use of digital purchases
– limit access to internet browsing by applying a filter
– control the amount of time that children can spend playing games
– control the level of online interaction (chat) and exchange of data (text messages, user-generated content).
Follow the link to find information on finding these setting on different consoles, handhelds and smartphones/ tablets.

https://pegi.info/parental-controls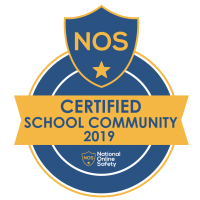 Here are a series of parent guides produced by National Online Safety  around the most common games and apps talked about in school. These are useful, informative and highlight the age-restrictions and associated risks.
At present, many children are playing a game called 'Fortnite: Battle Royale'. The game is free to download but has a PEGI rating of 12+ as themes within the game are not suitable for children of Primary School age.  Anew version called 'Fortnite: Chapter 2' is now available with a PEGI rating of 13+ which again is not suitable for children of Primary School age.
There are several e-safety issues that may arise when children are playing this game. Above is a copy of the guidance for parents from the National Online Safety organisation.
If your child is a 'gamer' please consider the following:
How much time is my child dedicating to playing this at home?
Do I set any restrictions on the amount of time my child can play a week?
Is my child addicted to the game/ gaming?
Is my child choosing to 'game' over other activities such as socialising, extra-curricular clubs and spending time with the family?
Is my child showing signs of frustration/ aggression after playing?
Is my child talking to strangers during squad mode (no proof of age is required so are people who they say they are?)
Is my child aware of any scams which are associated with the game?
Has my child got a strong password?
Does my child know how to make a report?
The CEOP website is extremely useful when thinking about safeguarding children online. It has lots of useful information about how to protect children as well as the opportunity to report any inappropriate incidents which have happened online.  Child Exploitation and Online Protection
NSPCC Share Aware: help your child stay safe on social networks:  http://www.nspcc.org.uk/preventing-abuse/keeping-children-safe/share-aware
This provides information on the partnership between NSPCC & O2 with online safety advice for everything you need to keep children safe online. –http://www.nspcc.org.uk/fighting-for-childhood/about-us/partners/nspcc-o2-online-safety-partnership/
Essential guidance for parents to keep children safe online from NSPCC and O2:
Net Aware – Advice for parents – Your guide to social networks: http://www.net-aware.org.uk
Online Safety Tips: