I hope that you are all healthy and well! We hope that you are continuing to make progress through your home learning packs but also making time to be you. Over the past two terms you have all showed that you are all extremely courageous, kind, generous and understanding. The way you all dealt with the current times has made myself and Mrs Riley incredibly proud to be your teachers. Keep up that great Year Five spirit which you all have in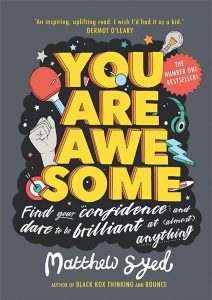 abundance.
The home learning packs did contain a number of tricky challenges but I have no doubt, that using your creative minds, you will be able to complete the activities. To all of you who are completing the home learning, I cannot wait to read your work when we return. Your last piece of writing was written extremely well, so that is the standard you have all set yourself for the rest of term!
I have been taking inspiration from how hard you all work to prepare more interesting tasks and challenges for you to complete once your first ones are all done. Also, I have been organising lots of lessons for us to enjoy when we return.
Finally, I want to leave you with the front cover of the inspirational book we are reading together. Remember you can achieve anything you set your minds to!
Stay safe and continue to make us all proud.
Mr Soboljew and Mrs Riley