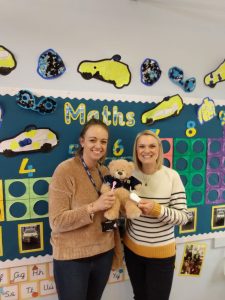 We are really missing your happy, smiley faces in Nursery- the classroom is ever so quiet without the sound of your giggles and laughter! We especially miss hearing about all of the exciting and wonderful things that you have been up to- we're sure that when we come back to school, you will all come in proudly clutching a wad of wow moments to share. We hope that you are having a lovely time at home, playing lots, spending time with your families and completing some of the suggested activities in your packs!
You know how much we love baking in Nursery- I wonder how many of you have had a go at using the recipe that we gave you to make some delicious biscuits?  Hopefully lots of you were able to get out, either in the garden or when completing your daily exercise, last week in the beautiful sunshine and saw lots of signs of Spring! We also hope that you have been showing your Mummies and Daddies how amazing you all are- especially with your reading and counting.
We are missing sharing stories with you everyday and can't wait to see you all again. Make sure that you keep yourselves safe, keep washing your hands regularly (whilst singing Happy Birthday twice!) and enjoy spending time with your families.
Lots of love,
Mrs Guy, Mrs Dixon and Mrs Machin