17/11/20 - Please read the following, it has been sent by Stoke-on-Trent City Council and details a slightly different message than has been delivered previously.
If you are showing even the slightest symptoms, however mild, please get a test. There is plenty of capacity. Some people who test positive tell us they waited to get tested as they didn't have 'classical' covid symptoms but did feel quite unwell. We need these people to get tested earlier.
Milder symptoms include:
Headaches
Aches and pains
Feeling very tired for no good reason
Sore throat
Runny nose
Sneezing
Sometimes 'tummy ache' in children
Community testing is available this week at the Wallace Sports and Education Centre, Abbey Hulton and Dimensions Leisure Centre in Burslem and those who don't have one of the three main symptoms but are feeling unwell can book a test directly https://www.stoke.gov.uk/info/20095/coronavirus_covid-19_closures_and_information/368/booking_a_covid-19_test_at_fenton_manor
National testing sites remain in Stoke-on-Trent at Stoke City FC South Car Park, Synectics Solutions Car Park in Burslem and Fenton Manor Car Park. Bookings can be made via www.nhs.uk/coronavirus, or ringing 119, where help is available in other languages.
People are reminded that it is vitally important whilst waiting for test results, that you self-isolate. This includes anyone you live with and anyone in your support bubble.
This is a message from the City Council, and we are all encouraged to follow the advice. If your child displays any of these symptoms, please do not send them into school and arrange for a test.
Thank you in anticipation of your support and cooperation.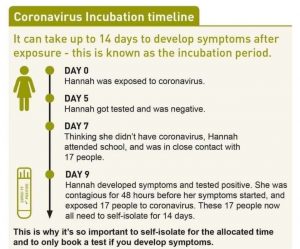 Click below for important guidance:
For the latest government 'stay at home' guidance please click on the following link:
https://www.gov.uk/government/publications/covid-19-stay-at-home-guidance/stay-at-home-guidance-for-households-with-possible-coronavirus-covid-19-infection